Melanated Business Alliance
Serving the Greater Lansing Area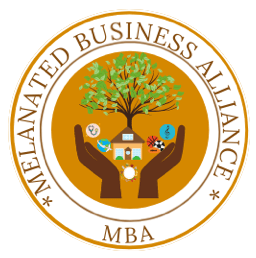 We are Melanated Business Alliance, we have been birthed from a will to serve the Black and Brown businesses and business professionals of the Greater Lansing communities. The Melanated Business Alliance is committed to "Changing the narrative in economic strategies through education and mentorship". 
We are family, we are friends, we are your neighbors, we are the successful black-owned businesses that were founded out of necessity. We are the mom-and-pop convenience stores, shops and businesses.Most importantly we are your helpers, your motivators, your teachers, and mentors, Melanated Business Alliance is an entity of good-spirited individuals seeking to make evident change within OUR communities and its members.
Melanated Business Alliance addresses the needs of Black, Indigenous, and People of Color-owned businesses through educational and technical support. We commit to equipping business owners with a wealth of resources to ensure top-level efficiency while nurturing other businesses from the concepts phase to becoming successful bankable businesses. The Melanated Business Alliance is committed to our professional business talent, and aspiring youth. Our goal is to equip them with the resources necessary to reach their career goals.
Empowering
Our empowerment strategy contains a multifaceted approach that will see businesses academically, financially, and practically groomed for success and sustainability. Thus, detailing the scope and willingness of The MBA to empower BIPOC businesses and their respective owners at all levels of society, and merely scratches the surface of the impact The Melanated Business Alliance can have on the Black and brown businesses and communities in the greater Lansing area. 
Educational
Our Business educational curriculum consists of on-site and online sessions, workshops, and webinars that run the gamut of key topics such as how to apply for funding, filling in the necessary paperwork, the creation and completion of business plans as well an in-depth study of the business building blocks like you've never experienced it before.
Entrepreneurship
Whether it is at the aid of our formal mentoring initiative, our internship job shadowing program or our many webinars, workshops, and educational lessons, we have carefully curated a host of resources that will deliver key insights and an all-new approach on running a fully functional business as a modern-day entrepreneur.